Compare Cadillac LYRIQ vs Audi e-tron and Tesla Model Y
The name Cadillac is synonymous with luxury and innovation. The beloved carmaker has been behind some of the most sought-after and popular cars and SUVs of the last century, and drivers from Owosso and East Lansing know they can count on the lineup to give them everything they're looking for in a new vehicle, and so much more. At Shaheen Cadillac in Lansing, we're proud to be your local home for the latest styles and models from our favorite brand name, and we're excited to tell you more about their first-ever all-electric model, the Cadillac LYRIQ.
An SUV that's powered solely by a rechargeable, electric engine, the Cadillac LYRIQ combines the groundbreaking performance that drivers love about EVs, with the signature quality and refinement of the Cadillac brand. But it's also not the only electric SUV out there and we understand that other brands might have vehicles in their collection that are competing for your attention. To illustrate why we think you should choose our new EV, we've highlighted some of the areas in which it comes out ahead of the competition.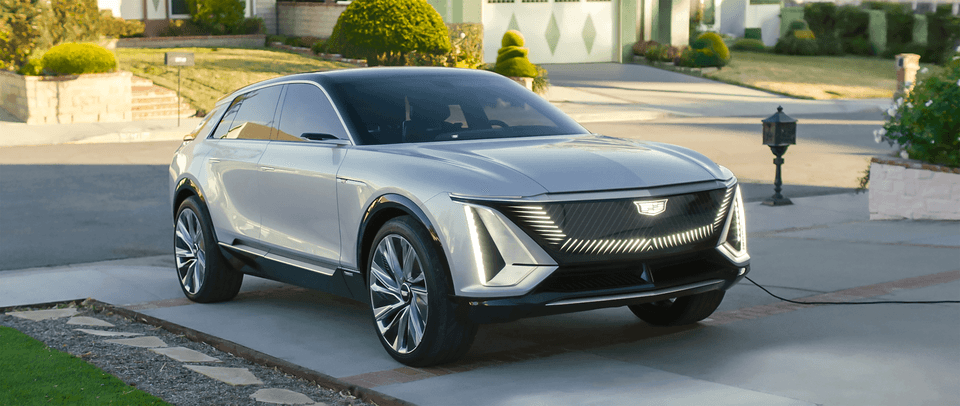 Electrify Your Commute with Cutting-Edge Luxury and Performance - See What Sets the Cadillac LYRIQ Apart
Cadillac LYRIQ vs. Tesla Model Y
Standard features. Cadillac has long been renowned for the way they spoil drivers and passengers with high-end, luxurious amenities and features. This tradition is evident and continues with the new LYRIQ model, which includes all the bells and whistle that our Jackson and Okemos customers want, listed as standard equipment. In fact, not only does Cadillac LYRIQ have plenty of high-end amenities, but it also comes with more standard than the Tesla Model Y. A few highlights include standard satellite radio and standard ventilated seats.
Passenger space and comfort. Seated in the front seat or the back, your passengers will have more room and be more comfortable in the Cadillac LYRIQ than the Tesla Model Y. This is thanks to the larger and more spacious interior of the Cadillac EV, which has increased shoulder room and elbow room in both rows when compared to the Tesla, and also has more than three extra inches of legroom for the front seat as well.
Cadillac LYRIQ vs. Audi e-tron
Charging technology. While both of these groundbreaking electric SUVs come with innovative charging technology that includes an onboard charger, the Cadillac LYRIQ offers a system that's more state of the art and more powerful. For example, the Cadillac LYRIQ has a 19.2-kW onboard charger that can add up to 52 miles of driving range per hour. Comparatively, the Audi e-tron has an onboard charger that is only 9.6-kW, which is no comparison for the level of power that comes with the Cadillac EV.
Electric driving range. With an electric motor and 100-kW battery pack, the new Cadillac LYRIQ produces a nice 340 horsepower, can be either rear-wheel or all-wheel drive, and has an estimated driving range of more than 300 miles on a fully charged system. This is plenty of power and performance for commutes in Lansing or road trips out of Grand Ledge, and it's a significant increase in range when compared to the Audi e-tron. With the Audi electric SUV, you can expect to have to stop and recharge your vehicle after just 222 miles of driving.
Up-To-Date Information on the Cadillac LYRIQ from Shaheen Cadillac
Experiencing the sophistication and cutting-edge craftsmanship of the Cadillac brand is the best way to determine what makes it the best around, and we can help with that. Stay tuned for the latest details on the availability of this impressive electric vehicle and contact our team for more information and to arrange your test drive. We look forward to helping you revolutionize and electrify your commute with this high-end, world-class model soon at our American Road dealership.